2 aprile 2021
Reading time 3 minutes
Kalmar piecing together awareness for autism
Kalmar's latest charitable initiative has seen the company and its dealer network join forces to boost awareness of - and support for - people living with autism.
Last October, Kalmar held a unique auction for two new Kalmar Ottawa terminal tractors, each wrapped in a special pink ribbon themed decal. The proceeds of the auction were donated to the winning dealer's breast cancer charity of choice.
"The success of this auction encouraged Kalmar Ottawa to set itself a target of running a similar campaign each quarter", explains Doug Queen, vice president, solutions sales, terminal tractors.
"We have another event planned for the second quarter and we are going to revisit the breast cancer awareness campaign later this year," he says. "This is a great way for Kalmar Ottawa to give back to the community."
Once autism was chosen as the focus of the latest campaign, the marketing team put a program together and invited the dealer network to submit a marketing plan for the exclusive right to purchase an autism awareness-inspired truck.
The winning plan came from Coffman Truck Sales in Illinois, which has been a Kalmar dealer since 2006. "We chose Coffman because they put together an amazing presentation on how they were going to promote the truck," explains Queen. "They committed to putting it into their rental fleet and making sure it was placed into key customer locations."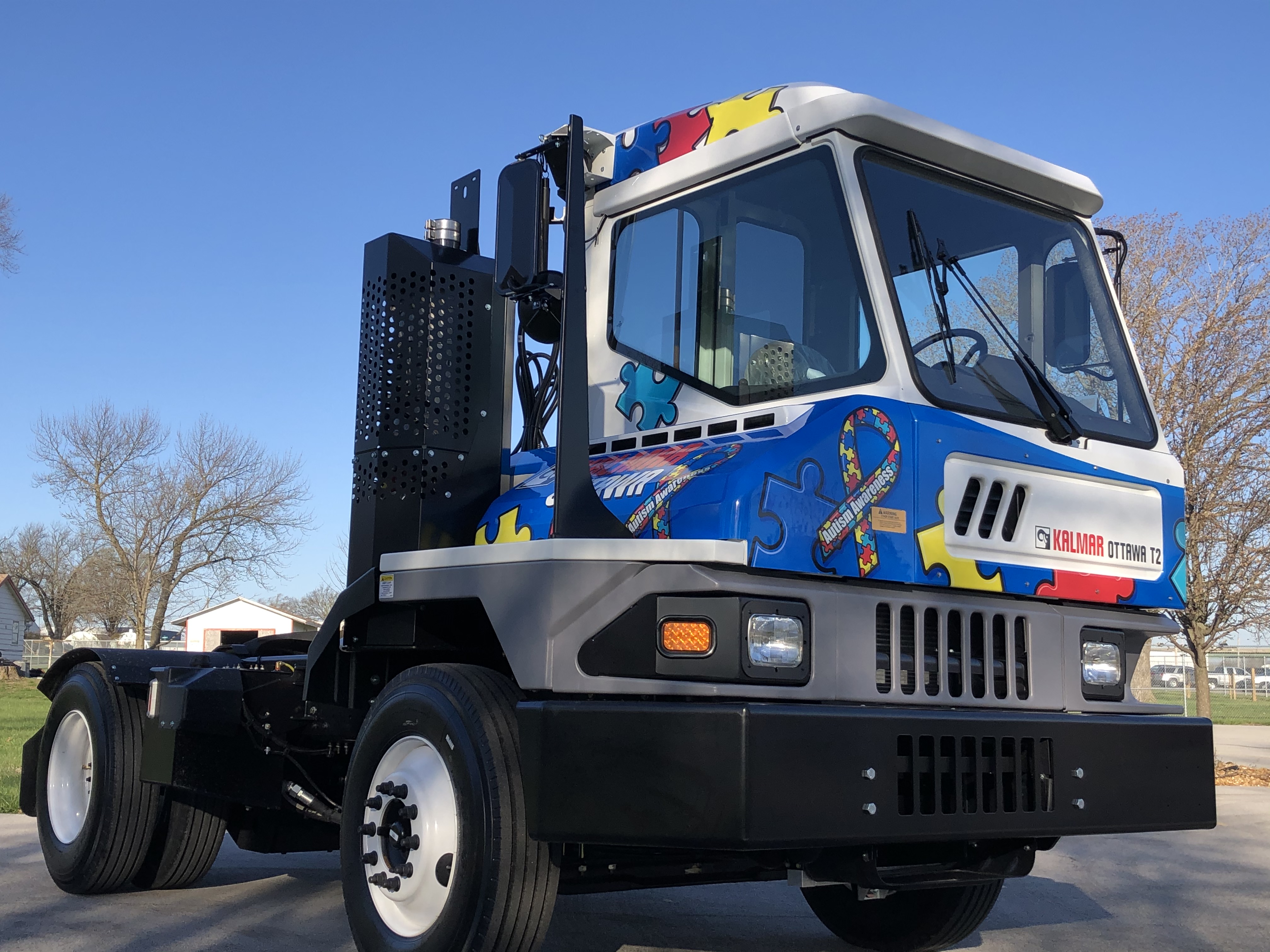 The company also agreed to add in some of its own marketing funds, run promotions and have pictures taken with the unit as well as identifying a number of local autism charities that they were going to support.
Coffman Truck Sales is a family-owned business founded in 1949 with just over 100 employees. Sales Lead, John Duerr, says that as soon as he received details of the campaign it was obvious that the company would want to get involved.
"Taking a truck and covering it with a charity wrap is such a great idea," he says. "We saw that we could raise funds for a good cause and have an immediate impact in the community through raising awareness and acceptance."
"We recognized the chance to bring a truck into our rental fleet, charge the same prices as we normally do and donate some of those proceeds," he adds. "We also looked at how we could expand the opportunity and put the truck into other charitable events."
Coffman already raises money for various charitable causes, but this was clearly a unique opportunity. The company hopes to inspire those customers who rent the truck to also make a donation by committing to donate $100 for each week the truck is rented.
"Our overall goal is to raise $10,000," explains Duerr. "We are going to create some stickers with the tagline 'Lifting for autism' and a picture of this truck that will be sold whenever we sell a new truck to enable these customers to make a donation."
Duerr describes the autism awareness campaign as a very special initiative that will put money in the hands of organizations that can make the most impact on the ground.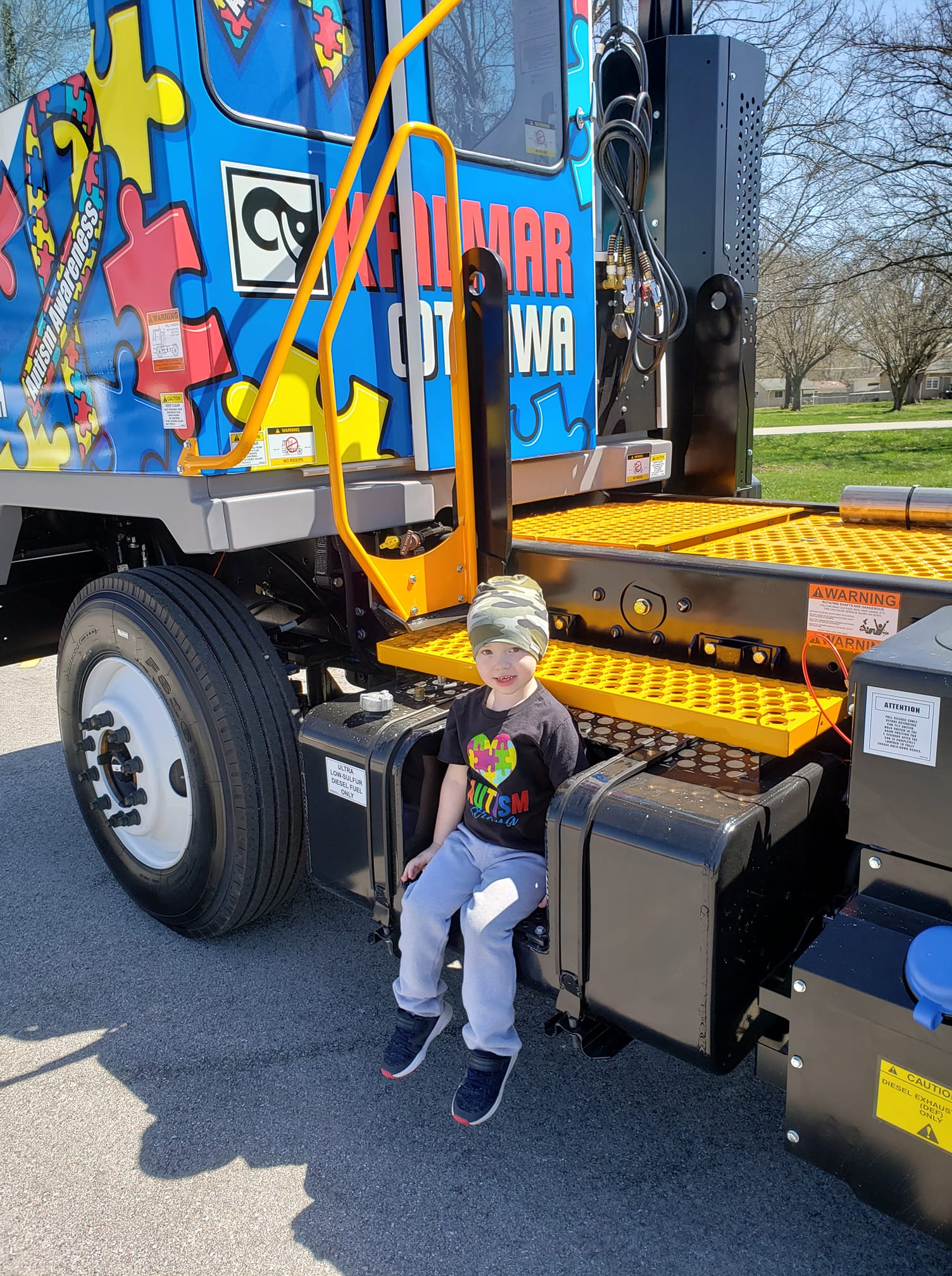 "Autism has an impact in everyone's community and this is a way of making people think about it rather than just turning off somebody," he says. "Somebody is going to look at this truck and talk about it and hopefully go and look at the information about autism and the impact it has. We are very grateful for Kalmar for giving us this opportunity – they have really stepped up at a time when inventory is tight."
In addition to Coffman Truck Sales, the top three dealers who were runner-ups in the marketing plan program have received an alternative option to bring awareness to autism. Kalmar has agreed to sponsor similar wraps for Eagle Mark IV, Metro Airport Truck and Wiese USA. These dealers will utilize existing trucks in their rental fleets to bring their plans to life and support local organizations in their area.